WELCOME TO TRIVIA CHAMP

Trivia Questions And Answers - Trivia Games - Printable Trivia Questions

TRIVIA CHAMP SITE NEWS
2018-11-01: Brent from Toronto, ON is our winner of the October trivia contest and recipient of $25.00
2015-01-05: Do you like fun and interesting facts? LIKE our Facebook page at: Trivia Champ and receive daily facts, trivia and other engaging items of interest to the trivia fan.
2014-12-31: Currently paying $2.00 per trivia quiz submission - For more info Click HERE
2014-11-24: Added another set of downloadable printable pub question and answer sheets to the site. Send me a note if you find these of use.
2014-09-12: Added downloadable video trivia games - see side menu.
DAILY TRIVIA CHALLENGE
Trivia Champ or just a wannabe?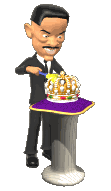 LAST TEN TRIVIA QUESTION GAMES ADDED TO TRIVIA CHAMP'S DATABASE
| | | |
| --- | --- | --- |
| GAME TITLE | GAME TYPE SELECTION | CATEGORY |

TODAY'S TRIVIA QUESTIONS
ANSWER TODAY'S QUESTIONS FOR A CHANCE TO WIN $25.00
1> What was the deal with the Emperor's New Clothes, anyway?

a. They were made of people's skin
b. They were peasant clothes
c. They bankrupted the kingdom
d. He wasn't wearing any clothes

2> What song, written by Jimmy Webb, includes these infamously bad lyrics "Someone left the cake out in the rain, I don't think that I can take it, 'Cause it took so long to bake it, And I'll never have that recipe again"?

a. Macarthur Park
b. Seasons in the Sun
c. I Write the Songs
d. Muskrat Love

3> Since Donald Duck quacks and Woody Woodpecker pecks, perhaps Christopher Wren really is a wren. In that case, what would he be good at?

a. Wearing the season's trendiest feathers
b. Singing an operatic aria
c. Turning his nest into an architectural masterpiece
d. Flying faster than any bird alive

4> Where would you take somebody's radial pulse?

a. Chest
b. Under the ear
c. Temple
d. Wrist

5> Despite getting a so-so grade when he presented the idea at a Yale business class, Fred Smith founded what company, based in Memphis?

a. FedEx
b. MCI
c. WalMart
d. Dell
SUBMIT YOUR ANSWERS HERE

TODAY'S ID IN THREE TRIVIA
Within my realm the King has no power but rather all power has been given to the Queen.
Who or What Am I?




FEATURED INTERACTIVE TRIVIA GAMES
ABOUT TRIVIA CHAMP

Hi! My name is Jane and I am the webmaster of Trivia Champ.

Trivia Champ has been an ongoing project and love of mine for the past few years and I continue to work at improving it whenever time allows. Should you have any suggestions, ideas, comments, trivia questions to contrbute and/or (heaven forbid) complaints, please feel free to contact me at the email address listed below. I would love to hear from you!

Thank you for stopping by. It is my sincere wish that you will find this site of benefit and have as much fun using the various resources as the fun I had while creating it.

Jane
webmaster[@]TriviaChamp.com