WELCOME TO TRIVIA CHAMP

Trivia Questions And Answers - Trivia Games - Printable Trivia Questions

TRIVIA CHAMP SITE NEWS
2020-05-01: Jane from New York, NY is our winner of the April trivia contest and recipient of $25.00
2015-01-05: Do you like fun and interesting facts? LIKE our Facebook page at: Trivia Champ and receive daily facts, trivia and other engaging items of interest to the trivia fan.
2014-12-31: Currently paying $2.00 per trivia quiz submission - For more info Click HERE
2014-11-24: Added another set of downloadable printable pub question and answer sheets to the site. Send me a note if you find these of use.
2014-09-12: Added downloadable video trivia games - see side menu.
DAILY TRIVIA CHALLENGE
Trivia Champ or just a wannabe?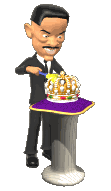 LAST TEN TRIVIA QUESTION GAMES ADDED TO TRIVIA CHAMP'S DATABASE
| | | |
| --- | --- | --- |
| GAME TITLE | GAME TYPE SELECTION | CATEGORY |

TODAY'S TRIVIA QUESTIONS
ANSWER TODAY'S QUESTIONS FOR A CHANCE TO WIN $25.00
1> Lists of trivial "facts" inevitably include the myth that a certain animal sound does not echo. Which one?

a. Joan Rivers' snivel
b. A lion's roar
c. A wolf's howl
d. A duck's quack

2> John McCain was one of the many Americans who involuntarily spent time at Hoa Lo, to which they gave what nickname?

a. Halifax Hyatt
b. Hanoi Hilton
c. Mumbai Marriott
d. Shanghai Sheraton

3> Plato said that the tenth muse was Sappho, from the island of Lesbos. What would it mean if a modern Plato called Sappho Sapphic?

a. She's gay
b. She's profound
c. She's multitalented artistically
d. She's a good wife and mother

4> In 1984, who sued when Ray Parker Jr. ripped off his I Want a New Drug for the theme to Ghostbusters?

a. Lionel Richie
b. George Michael
c. Jon Bon Jovi
d. Huey Lewis

5> Who once said, "Just as Poland had a rebellion against totalitarianism, I am rebelling against broccoli and I refuse to give ground"?

a. Ronald Reagan
b. John Major
c. George HW Bush
d. Margaret Thatcher
SUBMIT YOUR ANSWERS HERE

TODAY'S ID IN THREE TRIVIA
I have become one of the most vital instruments in the modern household.
Despite this fact, studies show that on average, I am lost 5 times per week.
What am I?




FEATURED INTERACTIVE TRIVIA GAMES
ABOUT TRIVIA CHAMP

Hi! My name is Jane and I am the webmaster of Trivia Champ.

Trivia Champ has been an ongoing project and love of mine for the past few years and I continue to work at improving it whenever time allows. Should you have any suggestions, ideas, comments, trivia questions to contrbute and/or (heaven forbid) complaints, please feel free to contact me at the email address listed below. I would love to hear from you!

Thank you for stopping by. It is my sincere wish that you will find this site of benefit and have as much fun using the various resources as the fun I had while creating it.

Jane
webmaster[@]TriviaChamp.com