WELCOME TO TRIVIA CHAMP

Trivia Questions And Answers - Trivia Games - Printable Trivia Questions

TRIVIA CHAMP SITE NEWS
2021-01-31: Donna from Ottawa, ON is our winner of the May trivia contest and recipient of $25.00
2015-01-05: Do you like fun and interesting facts? LIKE our Facebook page at: Trivia Champ and receive daily facts, trivia and other engaging items of interest to the trivia fan.
2014-12-31: Currently paying $2.00 per trivia quiz submission - For more info Click HERE
2014-11-24: Added another set of downloadable printable pub question and answer sheets to the site. Send me a note if you find these of use.
2014-09-12: Added downloadable video trivia games - see side menu.
DAILY TRIVIA CHALLENGE
Trivia Champ or just a wannabe?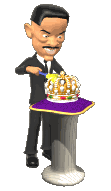 LAST TEN TRIVIA QUESTION GAMES ADDED TO TRIVIA CHAMP'S DATABASE
| | | |
| --- | --- | --- |
| GAME TITLE | GAME TYPE SELECTION | CATEGORY |

TODAY'S TRIVIA QUESTIONS
ANSWER TODAY'S QUESTIONS FOR A CHANCE TO WIN $25.00
1> It wasn't St Patrick, but the ice age 10,000 years ago that freed Ireland of what creatures?

a. Rats
b. Crows
c. Mosquitoes
d. Snakes

2> Which of these is not part of the name of a famous railroad, although it can be found in the name of a Monopoly railroad?

a. Santa Fe
b. Pennsylvania
c. Topeka
d. Atchison

3> Which of these is not one of Japan's Big Three automakers?

a. Nissan
b. Toyota
c. Honda
d. Hyundai

4> What can a Harrier jet do that most jets cannot?

a. Use radar and sonar
b. Take off vertically
c. Fly above the speed of sound
d. Drops precision bombs

5> What national park is named for the Miwok Indian word for the grizzly bear?

a. Acadia
b. Grand Teton
c. Zion
d. Yosemite
SUBMIT YOUR ANSWERS HERE

TODAY'S ID IN THREE TRIVIA
In 2003, there was a man who continually asked for help night after night. All the people around him cheered after he was done asking for help.
Who was he?




FEATURED INTERACTIVE TRIVIA GAMES
ABOUT TRIVIA CHAMP

Hi! My name is Jane and I am the webmaster of Trivia Champ.

Trivia Champ has been an ongoing project and love of mine for the past few years and I continue to work at improving it whenever time allows. Should you have any suggestions, ideas, comments, trivia questions to contrbute and/or (heaven forbid) complaints, please feel free to contact me at the email address listed below. I would love to hear from you!

Thank you for stopping by. It is my sincere wish that you will find this site of benefit and have as much fun using the various resources as the fun I had while creating it.

Jane
webmaster[@]TriviaChamp.com