WELCOME TO TRIVIA CHAMP

Trivia Questions And Answers - Trivia Games - Printable Trivia Questions

TRIVIA CHAMP SITE NEWS
2018-11-01: Tom from Ottawa, ON is our winner of the April trivia contest and recipient of $25.00
2015-01-05: Do you like fun and interesting facts? LIKE our Facebook page at: Trivia Champ and receive daily facts, trivia and other engaging items of interest to the trivia fan.
2014-12-31: Currently paying $2.00 per trivia quiz submission - For more info Click HERE
2014-11-24: Added another set of downloadable printable pub question and answer sheets to the site. Send me a note if you find these of use.
2014-09-12: Added downloadable video trivia games - see side menu.
DAILY TRIVIA CHALLENGE
Trivia Champ or just a wannabe?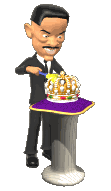 LAST TEN TRIVIA QUESTION GAMES ADDED TO TRIVIA CHAMP'S DATABASE
| | | |
| --- | --- | --- |
| GAME TITLE | GAME TYPE SELECTION | CATEGORY |

TODAY'S TRIVIA QUESTIONS
ANSWER TODAY'S QUESTIONS FOR A CHANCE TO WIN $25.00
1> If you wanted to visit the Taj Mahal, what city would you have to go to?

a. Hong Kong
b. New Delhi
c. Agra
d. Singapore

2> What is the favorite food of the Teenage Mutant Ninja Turtles?

a. Chinese
b. Pizza
c. Hamburgers
d. Tacos

3> What is the capital of Sweden?

a. Copenhagen
b. Amsterdam
c. Oslo
d. Stockholm

4> According to the old song Yankee Doodle, what did Yankee Doodle call the feather is his cap?

a. Schnitzel
b. Macaroni
c. Guacamole
d. Sauerkraut

5> Which famous singer passed away on the 25th of June 2009?

a. Whitney Houston
b. Michael Jackson
c. Barry Gibb
d. George Harrison
SUBMIT YOUR ANSWERS HERE

TODAY'S ID IN THREE TRIVIA
Jane has never fancied herself as surgeon, but duty calls and she gives it her best shot. She proceeds to operate on a man removing several major organs and other body parts. Believe it or not, Jane managed to accomplish exactly what the job required.
How?




FEATURED INTERACTIVE TRIVIA GAMES
ABOUT TRIVIA CHAMP

Hi! My name is Jane and I am the webmaster of Trivia Champ.

Trivia Champ has been an ongoing project and love of mine for the past few years and I continue to work at improving it whenever time allows. Should you have any suggestions, ideas, comments, trivia questions to contrbute and/or (heaven forbid) complaints, please feel free to contact me at the email address listed below. I would love to hear from you!

Thank you for stopping by. It is my sincere wish that you will find this site of benefit and have as much fun using the various resources as the fun I had while creating it.

Jane
webmaster[@]TriviaChamp.com