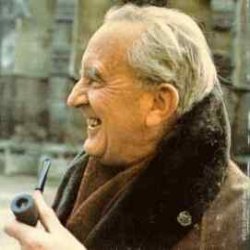 J. R. R. Tolkien is viewed by many as the Father of Modern Fantasy Literature. Ronald, as he preferred to be called, was honored by Queen Elizabeth II with the Order of the British Empire n 1972. Tolkien's works included far more than just the Lord of the Rings and the Hobbit, although those are probably his best-known novels. Tolkien and his many works have inspired countless young authors and writers to reach beyond the normal bounds of writing, and create not just characters but completely new worlds and lands. Ronald is truly one of the greatest creative authors of the 20th century.
John Ronald Reuel Tolkien was born on the 3rd of January in 1892 in Bloemfontein, South Africa. Although his first name was John, most people called him Ronald.
When Ronald was 16, he met Edith Mary Bratt. Edith was not only three years older than Ronald,  she was also a protestant. Ronald was a Catholic. They were married in 1916 on the 22nd of March. At that time Mary converted to the Catholic faith.
Ronald was an orphan by the age of 12. His father died of Rheumatic Fever while the rest of the family was in England visiting relatives. His mother died of acute diabetes while they were renting a small cottage in Rednal.
Google+