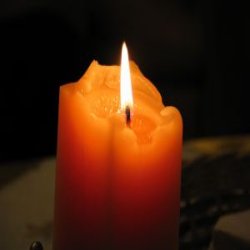 Candles have drastically changed over the years. In past times candles were more functional than decorative. The most common candles were made right in the home and often used as the primary light source. They were made from tallow, were an off white color and would burn with a lot of smoke. Today's candles are colorful, scented and decorative. They are made from numerous different materials which provide not only beauty but wonderful aromas.
Chinese Proverb
It is better to light a candle
then to curse the darkness
– People who are buying candles for their home use three main factors when making their selection. Their first consideration is fragrance, shape and color are a far distant second.
– Americans spend close to 2 billion dollars every year on candles.
– Candles have been used as clocks by many different cultures. Candles were an effective way of keeping time on a cloudy day or at night.
– In India, temples would make candles from cinnamon. They would boil the cinnamon and extract the wax.
Google+