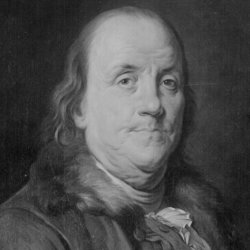 There are few people in history who can claim to have done as many things as Benjamin Franklin. The man had almost no schooling and yet went on to become one of the most recognized and admired people in American history. He achieved success in many different areas including, politics, writing and science. His list of achievements cover everything from signing The declaration of Independence to inventing many items which are still in use today.
Benjamin Franklin was born on January 17th 1706, in Boston, Massachusetts. Ben was one of 17 children.
Ben's father was unable to afford to send Ben to school for more than a year.
Benjamin designed a stove with a grill on the top which allowed people to both cook and heat their homes. The stove is commonly referred to as a Franklin Stove.
Benjamin's father did not want him to go to sea, so instead he had Benjamin work as an apprentice printer for his brother James. Benjamin stated that his brother's treatment of him was both harsh and tyrannical. He ran away in 1723 and made his way to Philadelphia. Ben had only three cents and one schilling when he arrived in the city. Continue reading →
Google+