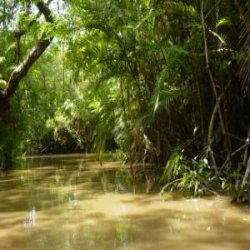 The Amazon River Basin remains one of the most unchanged and undisturbed areas on the planet. The Amazon River itself, is a mecca of animal, plant and fish life. There are very few people who live on the Amazon and life there has changed very little in the past hundred years. There still remains much to be learned about and from this wonderful unique area of the planet.
The Amazon river is the second longest river in the world. It is 6280 km (4080 miles) in length. The only other river that is longer is the Nile River in Africa.
The width of the Amazon varies between 6 and 11 km. It is among the widest rivers in the world.
The river was named by Spanish explorer Francisco Orellana. Francisco was part of an expedition that was exploring the interior of South America. He and his men began their journey on the Coca River and followed it until it joined the Napo River. Francisco and his crew continued tracking the Napo River eastward, and discovered that it merged in to the Negro River and then into the Rio Grande (what is now called the Amazon).
The Amazon River is known to be the home of more than 2500 species of fish. New varieties are still being identified. Continue reading →
Google+