WELCOME TO TRIVIA CHAMP
Trivia Questions And Answers - Trivia Games - Printable Trivia Questions

TRIVIA CHAMP SITE NEWS
2014-07-01: Tasha from Saint Petersburg, FL is our winner of the October trivia contest and recipient of $25.00
2014-06-08: Currently paying $2.00 per trivia quiz submission - For more info Click HERE
2014-06-08: To anyone who submitted a trivia game in the past two weeks, we had a mail problem and did not receive all submissions. If you have had no reply, please resubmit.
2014-06-07: Do you like fun and interesting facts? LIKE our Facebook page at: Trivia Champ and receive daily facts, trivia and other engaging items of interest to the trivia fan.
2014-06-01: Congrats to Jane from Billings, MT who is our winner of the August trivia contest and recipient of $25.00
DAILY TRIVIA CHALLENGE
Trivia Champ or just a wannabe?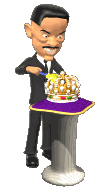 LAST TEN TRIVIA QUESTION GAMES ADDED TO TRIVIA CHAMP'S DATABASE
| | | |
| --- | --- | --- |
| GAME TITLE | GAME TYPE SELECTION | CATEGORY |

TODAY'S TRIVIA QUESTIONS
ANSWER TODAY'S QUESTIONS FOR A CHANCE TO WIN $25.00
1> The Academy Award winning actor Joh Voight is father to which actress?

a. Jennifer Aniston
b. Meg Ryan
c. Angelina Jolie
d. Jodie Foster

2> I am a vegetable that can be found in violet, white, and red skinned varieties. What am I?

a. Beet
b. Carrot
c. Lettuce
d. Asparagus

3> In Monopoly, how much money does each player get at the start of the game?

a. 1250
b. 2000
c. 1000
d. 1500

4> Who had a hit with the song, All Those Years Ago?

a. Pat Travers
b. George Harrison
c. Steve Miller
d. Elton John

5> In the movie Thelma and Louise, who played the role of Thelma?

a. Geena Davis
b. Susan Sarandon
c. Lori Petty
d. Sally Field
SUBMIT YOUR ANSWERS HERE

TODAY'S ID IN THREE TRIVIA
Hoodlum was out for a walk when it started to rain and he did not have an umbrella, a hat, or anything else to shield himself.
However not a single hair on his head got wet. How can this be?




JANUARY FEATURED INTERACTIVE TRIVIA GAMES
ABOUT TRIVIA CHAMP

Hi! My name is Jane and I am the webmaster of Trivia Champ.

Trivia Champ has been an ongoing project and love of mine for the past few years and I continue to work at improving it whenever time allows. Should you have any suggestions, ideas, comments, trivia questions to contrbute and/or (heaven forbid) complaints, please feel free to contact me at the email address listed below. I would love to hear from you!

Thank you for stopping by. It is my sincere wish that you will find this site of benefit and have as much fun using the various resources as the fun I had while creating it.

Jane
webmaster[@]TriviaChamp.com