WELCOME TO TRIVIA CHAMP
The One-Stop Trivia Resource Site For Trivia Lovers

TRIVIA CHAMP SITE NEWS
2014-07-01: Penny from Saint Petersburg, FL is our winner of the June trivia contest and recipient of $25.00
2014-06-08: Currently paying $2.00 per trivia quiz submission - For more info Click HERE
2014-06-08: To anyone who submitted a trivia game in the past two weeks, we had a mail problem and did not receive all submissions. If you have had no reply, please resubmit.
2014-06-07: Do you like fun and interesting facts? LIKE our Facebook page at: Trivia Champ and receive daily facts, trivia and other engaging items of interest to the trivia fan.
2014-06-01: Congrats to Denny from Billings, MT who is our winner of the May trivia contest and recipient of $25.00
DAILY TRIVIA CHALLENGE
Trivia Champ or just a wannabe?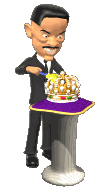 LAST TEN TRIVIA QUIZ SETS ADDED TO TRIVIA CHAMP'S DATABASE
| | | |
| --- | --- | --- |
| GAME TITLE | GAME TYPE SELECTION | CATEGORY |

TODAY'S TRIVIA QUESTIONS
ANSWER TODAY'S QUESTIONS FOR A CHANCE TO WIN $25.00
1> What is the capital of Cambodia?

a. Phnom Penh
b. Jakarta
c. Doha
d. Baku

2> What sport did Terry Sawchuk play?

a. Tennis
b. Golf
c. Basketball
d. Hockey

3> In which sport would you hear the terms ace, apron, backswing and fringe?

a. Cross country skiing
b. Gymnastics
c. Golf
d. Table tennis

4> Where would you find the world's smallest monkey?

a. Kenya
b. Brazil
c. China
d. Thailand

5> Manmohan Singh was the prime minister of which nation?

a. Qatar
b. Argentina
c. Laos
d. India
SUBMIT YOUR ANSWERS HERE

TODAY'S ID IN THREE TRIVIA
There are thought to be more than one million species of me, living in a wide range of habitats. Some of us are parasitic, some of us are predators.
What are we?




JANUARY FEATURED INTERACTIVE TRIVIA GAMES
ABOUT TRIVIA CHAMP

Hi! My name is Jane and I am the webmaster of Trivia Champ.

Trivia Champ has been an ongoing project and love of mine for the past few years and I continue to work at improving it whenever time allows. Should you have any suggestions, ideas, comments, trivia questions to contrbute and/or (heaven forbid) complaints, please feel free to contact me at the email address listed below. I would love to hear from you!

Thank you for stopping by. It is my sincere wish that you will find this site of benefit and have as much fun using the various resources as the fun I had while creating it.

Jane
webmaster[@]TriviaChamp.com