WELCOME TO TRIVIA CHAMP
Trivia Questions And Answers - Trivia Games - Printable Trivia Questions

TODAY'S WHO AM I TRIVIA QUESTION
I was a Greek philosopher and renaissance man, a student of Plato and a teacher of Alexander the Great. Many consider me as one of the most important founding figures in Western philosophy. Who am I?
[ ANSWER TOGGLE ]

TRIVIA CHAMP SITE NEWS
2013-08-12: Do you like fun and interesting facts? LIKE our Facebook page at: Trivia Champ and receive daily facts, trivia and other engaging items of interest to the trivia fan.
2013-08-02: Congrats to Tina from Aberdeen, Scotland who is our winner of the July trivia contest and recipient of $25.0O
2013-08-01: Added downloadable video trivia games - see side menu.
2013-08-01: Currently paying $2.00 per trivia quiz submission - For more info Click HERE
2013-07-15: Added downloadable printable pub question and answer sheets to the site. We'll see if there is a demand for more.
DAILY TRIVIA CHALLENGE
Trivia Champ or just a wannabe?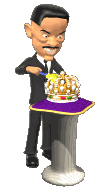 LAST TEN TRIVIA QUESTION GAMES ADDED TO TRIVIA CHAMP'S DATABASE
| | | |
| --- | --- | --- |
| GAME TITLE | GAME TYPE SELECTION | CATEGORY |

TODAY'S TRIVIA QUESTIONS
ANSWER TODAY'S QUESTIONS FOR A CHANCE TO WIN $25.00
1> In the traditional poem "Tuesdays Child", what is Monday's child?

a. Fair of Face
b. Full of Woe
c. Far to Go
d. Full of Grace

2> Which of the following spiders devours its male partner after they are finished mating?

a. Black Widow
b. Orb Weaver
c. Wolf Spider
d. Tarantula

3> Which well-known movie star has a son named Sage Moonblood?

a. Sylvester Stallone
b. Burt Reynolds
c. Paul Newman
d. Mel Gibson

4> The Japanese flag is a white rectangular flag with a large disk in the center. What color is the disk?

a. Red
b. Yellow
c. Blue
d. Green

5> What part of the human body does the disease, glaucoma, affect?

a. Mouth
b. Ears
c. Hands
d. Eyes
SUBMIT YOUR ANSWERS HERE

TODAY'S ID IN THREE TRIVIA
DECEMBER FEATURED INTERACTIVE TRIVIA GAMES
ABOUT TRIVIA CHAMP

Hi! My name is Jane and I am the webmaster of Trivia Champ.

Trivia Champ has been an ongoing project and love of mine for the past few years and I continue to work at improving it whenever time allows. Should you have any suggestions, ideas, comments, trivia questions to contrbute and/or (heaven forbid) complaints, please feel free to contact me at the email address listed below. I would love to hear from you!

Thank you for stopping by. It is my sincere wish that you will find this site of benefit and have as much fun using the various resources as the fun I had while creating it.

Jane
webmaster[@]TriviaChamp.com