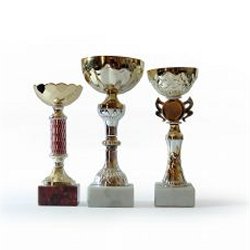 NBA
The winner of the NBA is awarded the Larry O'Brien Trophy. This trophy replaced the Walter A. Brown Trophy which was awarded from 1949 until 1977. The trophy was a challenge cup which means that the winning team would keep the trophy for a year and then return it to the league to be given to the next winner. The Cup was simply called the NBA Finals Trophy until 1964 when it was renamed the Walter A Brown Trophy.
Walter Brown, (1905 – 1964) was the first owner of the Boston Celtics. He played a major role in uniting the BAA and the National Basketball League into today's NBA.  The Walter A. Brown trophy is on display in the Basketball Hall of Fame in Springfield Massachusetts. In 1977 a new trophy was designed for the league, but the name remained the same.
In 1977 with the creating of a new trophy for the NBA, the association also decided that the trophy would be won outright by a team each year. This meant that a new trophy had to be made every year. The trophy which depicts a basketball going into a net is made by Tiffany and Co. each year at a cost of about $14 000. The trophy is made out gold plated sterling silver and stands about two feet tall. Each year the trophy has the name of the winning team and the year engraved on it.
The trophy was renamed the Larry O'Brien Trophy in 1984. Larry O'Brien ( 1917-1990)  was the commission of the NBA for eight years. He held the office from 1975 to 1983.
The Indianapolis 500
The winner of the Indianapolis 500 is presented with the Borg-Warner Trophy. The cup is a challenge cup, meaning that it is not won outright, bbut rather it remains in the Indianapolis Motor Speedway Hall of Fame Museum. Each year since 1936, the trophy has been  presented to the race's winner in the winner's circle after the race. After the race, the name of the driver, the date and his average speed is engraved on the trophy. A likeness of the driver's face is also engraved on the trophy.
The trophy itself was designed by Robert J. Hill and Gorham Inc. and cost $10 000.  The trophy is just under five feet tall and weighs almost 153 lbs. It is made out of sterling silver. At the top of the trophy is a man waving a checkered flag. The trophy has had to be expanded to accommodate more names throughout the years. The entire trophy is covered with small pieces that alternate between a likeness of the driver and the information about the driver. The trophy has been valued at more than $1.3 million US dollars.
Google+