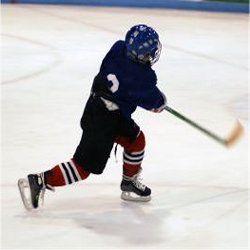 Who holds the record for the longest winning streak in the NHL?

The Pittsburgh Penguins hold this record with an astounding 17 game winning streak. They set this record in the 1992-93 season. The team was coached by Scotty Bowman with Craig Patrick as the general manager. The team completed the regular season with a 56-21-7 and won the President's Trophy which is given to the team who has the most points at the end of the regular season.
It was announced during the season that team Captain Mario Lemieux was suffering from Hodgkin's disease, which forced him to miss 24 games during the regular season and the all star game. Despite this, he won both the Art Ross Trophy for having the most points (160) in the regular season and  he would also win the Hart Trophy as the league's most valuable player. Mario also lead his team in goals (69) and assists (91) and had an amazing +55. Goalie Tom Barrasso had 43 wins and a 3.1 goals against average for the season.

Which NHL team has the longest undefeated streak?
The record is held by the Philadelphia Flyers. In the 1979-80 season the Flyers went for 35 games without losing, their record was 25-0-10. This is not only an NHL record but a North American Professional sports record. The team was coached by Pat Quinn and the general Manager was Keith Allen.
Bobby Clarke who had been the team's captain gave up his position as captain to become a player/coach. The role of team captain was given to Mel Bridgman. The team leader in goals was Reggie Leach (50) and both Bobby Clark and Ken Linesman finished the season with a team leading 57 assists. Jimmy Watson lead the team in plus/minus with a +53.
The Flyers would finish the regular season with a 48-12-20. Number one overall in the NHL. The team would then move into the post season and make it to the Stanley Cup finals. Surprisingly , the Flyers were defeated by the New York Islanders in 6 games.  Bob Nystrom of the New York Islanders would score in overtime during game six, to win the cup for the Islanders.
Google+