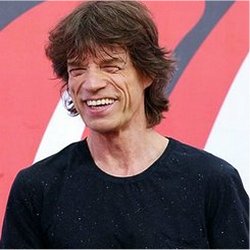 Mick Jagger is one of the most recognized faces in the world of Rock and Roll and is often portrayed as being one of the really bad boys of the music scene. While, it is true that Mick is certainly no Saint, he is not nearly as bad as the media presents him to be. Regardless of all the bad publicity Mick has received over the years, there can be no denying his, and the Rolling Stones', contributions to the world of Rock and Roll.
Mick and the Rolling Stones have won many awards and received various tributes throughout the years. Not only was Mick  knighted in 2003 by Prince Charles but he was also inducted into the Song Writers Hall of fame in 1993.
Quick Mick Jagger & Rolling Stones Facts
Mick has been estimated to have a personal worth of over 215 million dollars.
Mick Jagger is the lead singer for the Rolling Stones which were formed in 1962. The band members include, Mick Jagger, Keith Richards, Ronnie Wood and Charlie Watts.
Brian Jones, Bill Wyman, Ian Stewart, Mick Taylor and Dick Taylor are all former members of the band.
Mick has seven children. Karis (Nov. 4th 1970),  Jade (Oct. 21st 1971), Elizabeth (March 2nd 1984), James (Aug. 28th 1985), Georgia (Jan. 12th 1992), Gabriel (Dec. 13th 1997) and Lucas (May 18th 1999). Mick also has four grandchildren.
Mick has been married twice. The first time to Bianca De Macias and the second time to Jerry Hall. He has been romantically linked to numerous different woman throughout the years including, Marsha Hunt, Bebe Buell, Sophie Dahl and Luciana Gimenez.
Mick was born on the 26th of July, 1943. He was born in Dartford, England in the Livingstone Hospital. Mick has one younger brother, Chris who was born on the 19th of Dec. in 1947.
Keith Richards and Mick Jagger both went to the same elementary school, Wentworth Primary in Dartford.
Jagger is known to be a big fan of the game of cricket. He is also a fan of the American group, The Beach Boys.
Mick appeared in the films Ned Kelly and Freejack. He also has unaccredited appearances in the movie Enigma, and the film The Bank Job. In Enigma he plays a soldier in the bar.
Mick sings back up vocals on Carly Simon's big hit song, You're so Vain. He also sings on the Jackson hit, State of Shock.
Mick was a producer for the films, Enigma and The Women.
The first album released by the Rolling Stones was simply entitled The Rolling Stones. It debuted in 1964.
Mick is well known in the music world for his unique style of dancing on stage and his lips. Mick's lips are often mocked in caricatures.
The Rolling Stones have sold more than 200 million albums world wide. They have had numerous number one hits in both the US and the UK. The band has released over 2 dozen albums and more than 90 singles.
Google+