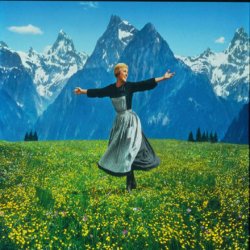 In the film, the family had seven children. The children were Lisel, Louisa, Fredrich, Kurt, Brigitta, Marta and Gretl. The story is about Maria, a novice from a nearby convent that is recruited to become the family's governess. The movie is loosely based on the real story of the Von Trapp family.
This movie debuted in 1965 and starred Julie Andrews, Christopher Plummer, Peggy Wood and Richard Haydn. This Oscar written film was directed by Robert Wise. The film was written by Russel Crouse and Howard Lindsay and the music was written and composed by the team of Rodgers and Hammerstein.
The Sound of Music won five Oscars, best director, best picture, best sound, best film editing and best music score. Additionally, it was nominated for five others.
Quick Sound of Music Facts
Christopher Plummer disliked working on the film. He often referred to it as S&M or the Sound of Mucus.
In the song "So Long Farewell" the high note sung by Kurt was actually sung by Darleen Carr. Darleen was Charmain Carr's (Lisel) younger sister.
The real Maria Von Trapp does a cameo in the film.
The team of Rodgers and Hammerstein also wrote the score for the musicals The King and I, South Pacific, Carousel and Okalahoma. This creative duo won 34 Tony awards, 2 Grammy's and 15 Academy Awards.
The movie was filmed at various locations in Austria, Germany and the US.
Doris Day turned down the part of Maria.
Kim Karath, who played Gretl was unable to swim so the original plan was to have Julie Andrews grab her. While filming, Julie fell off the other side of the boat so Heather Menzie (Louisa) rescued her. Poor Kim had swallowed so much water that she threw up on Heather.
Charmain Carr, (Lisel) slipped and fell through one of the windows while they were filming the gazebo scene. She was not seriously hurt but she did have to wear makeup covered bandages to finish the scene.
Nicholas Hammond had to have his hair bleached.
In the scene where the family is pushing their car, there is actually 6 Austrians pulling it.
Richard Burton and Sean Connery were both considered for the part of Captain Von Trapp.
Audrey Hepburn, was a candidate for the role of Marisa, but she turned it down.
Edelweiss was the last song that Hammerstein wrote before he died.
Four of the Osmond brothers auditioned for parts in the movie.
Christopher Plummer learned to play the guitar so he could actually play during the film, however his playing was dubbed over in the final version.
Google+