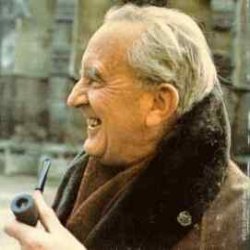 J. R. R. Tolkien is viewed by many as the Father of Modern Fantasy Literature. Ronald, as he preferred to be called, was honored by Queen Elizabeth II with the Order of the British Empire n 1972. Tolkien's works included far more than just the Lord of the Rings and the Hobbit, although those are probably his best-known novels. Tolkien and his many works have inspired countless young authors and writers to reach beyond the normal bounds of writing, and create not just characters but completely new worlds and lands. Ronald is truly one of the greatest creative authors of the 20th century.
John Ronald Reuel Tolkien was born on the 3rd of January in 1892 in Bloemfontein, South Africa. Although his first name was John, most people called him Ronald.
When Ronald was 16, he met Edith Mary Bratt. Edith was not only three years older than Ronald,  she was also a protestant. Ronald was a Catholic. They were married in 1916 on the 22nd of March. At that time Mary converted to the Catholic faith.
Ronald was an orphan by the age of 12. His father died of Rheumatic Fever while the rest of the family was in England visiting relatives. His mother died of acute diabetes while they were renting a small cottage in Rednal.
Other interesting trivia facts:
Ronald joined the British Army when WWI broke out. He was given the rank of second lieutenant in the Lancaster Fusiliers.
As a child in South Africa, Ronald was bitten by a Baboon spider. Baboon spiders are members of the tarantula family and although they are venomous, they are not usually fatal to man.
Ronald preferred riding a bike to driving a car.
Ronald was stricken by trench fever, at the Somme. Trench fever is a disease that was carried by lice, that were extremely common in the trenches. Ronald was forced to return to England where he would spend the remainder of the war.
One of Tolkien's closest friends was author C.S. Lewis. Lewis is the author of the celebrated novels the Chronicles of Narnia.
Tolkien was a very devout Catholic.
Ronald and his wife Edith are buried in Wolvercote Cemetery, in Oxford. They are buried in a single grave which reads,
Edith Mary Tolkien, Luthien 1889-1971
John Ronald Reuel Tolkien, Beren 1892-1973
Tolkien began working on the Hobbit while he was a professor at Pembroke College. He took the position in 1925. He also wrote the first two volumes of his novel Lord of the rings, during this time period. The Hobbit was first published in 1937.
More than 100 million Americans have read the Lord of the Rings.
Tolkien was making entries in his personal diary in his own language by the age of 27. Tolkien not only created an imaginary world for his characters, he created whole languages. In his world of Arda he constructed several languages, elvish, mannish and ents were all used in his world.
Ronald had four children with his wife Edith. They had one daughter Priscilla and three sons Christopher, John and Michael. It was Tolkien's son Christopher who edited and completed his father's novel the Silmarillion. After Ronald's death, Christopher went back through his fathers notes and used them to fill in and complete whole sections of the unfinished work.
Ronald loved to smoke a pipe.
Tolkien has an asteroid named after him. It is asteroid 2675, which was discovered in 1982.
Google+