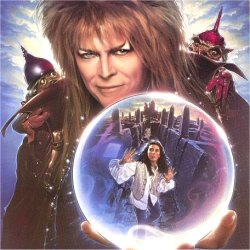 Labyrinth is an imaginative fantasy film that was released in1986. The movie was directed by legendary puppeteer Jim Hensen. It was produced by George Lucas and stars David Bowie and a cast of Hensen's famous Muppets.
The film was written by Jim Hensen, Elaine May, Dennis Lee and Terry Jones. Elaine May is not only a writer but an actress and director. She was nominated for an Oscar for her work on the film Heaven Can Wait. Dennis Lee, is an award winning, Canadian children's author. He was also one of the writers for the television series Fraggle Rock. Terry Jones, is best known for his years as a member of the British comedy team Monty Python.
This team of very creative people developed a story about a young girl, who is trying to rescue her brother from the Goblin King. In order to find her brother she must first succeed in negotiating the Labyrinth that leads to the castle. While travelling through this maze, she not only meets a variety of strange and wonderful creatures but learns a lot of life's lessons about growing up.
Labyrinth Quick Facts
In the opening sequence a computer generated owl is used. It was the first time a computer generated image was incorporated into a full length movie.
Sarah has a pet dog named Merlin. He is an old English Sheepdog. Merlin also plays the part of Ambrosia, Sir Didymus' noble steed.
The amazing scenes when Jareth juggles the crystal balls was actually done by Michael Moschen. Michael was right behind David and slid his own arms forward to do the juggling. There is no trick photography involved. Michael is a world renown juggler and choreographer.
When David had to do the long scene with the baby Toby on his lap, Toby would not stop crying. To keep the baby entertained David donned a small hand puppet named Sooty which he wiggled and moved to keep the child entertained. David kept that hand carefully out of camera range.
Google+