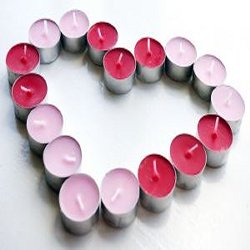 Every year millions of people celebrate the feast of Saint Valentine. They do not celebrate the day as a religious event but as an affirmation of love or commitment to another person.  A valentine does not have to be a lover or a spouse, although in many cases it is. Teachers are in fact the people who receive more Valentines than anyone else, followed closely by mothers. Chocolates, flowers and cards are the most common items given out on Valentine's Day and are always appreciated, however if you are trying to find a suitable Valentine for a lover, significant other or a spouse why not try something a little different this year.
These day you can get everything from underwear, to soaps and candles made just for your significant other. You can get almost anything personalized but, keep in mind the amount of time that you have and the budget.
A truly unique idea is to get a personalized romance novel. These novels are not very expensive and allow you and your other to become the stars in your own romance.
Gifts of soaps, creams and bubble baths are always great. But take it one step further and set the bath up for your partner. You might want to include candles and soft music to really create a relaxing atmosphere.
Send a magic message in a bottle. Choose a special bottle, or decorate one with whatever suits your fancy. The message that you send can be anything, that part is up to you, be creative. If you are really having trouble coming up with a message, you could customize a classic poem and place it in the bottle.
If you want to give a really personal gift, why not use a photograph of the two of you together. You can have your picture set in a custom frame or made into a jigsaw puzzle. If your partner has a sweet tooth you might consider having the picture set on a cake or a cookie. If your other is a cuddler what about a cozy photo blanket?
How about a pair of sexy boxer shorts, or for her get a camisole and shortie set. If you are feeling really inspired you can even get a pair with a customized message.
If you are good in the kitchen why not cook dinner for two. If you are not a great cook, consider getting a special take out order from your favorite restaurant. To make your night truly special, be sure to include candles and music. If you really want to go all out, why not get a bottle of wine, and make it a bottle that has a label which reads 'I love you' or some other personal message.
A romantic dinner for two, need not be confined to the dining room or the kitchen. Move your meal outside, a garden or a patio can be a wonderful change from the everyday. Take your meal on the road and have an elaborate picnic for two in a special location.
Plan a special treasure hunt for your other. Leave a variety of notes and clues for them to find, that will lead them to the ultimate treasure. What they find at the end of the hunt is up to you.
Jewelery need not be expensive. There are numerous ways to express your love without breaking your bank account. What about an engraved heart or a monogrammed bracelet. If you have a children, a family ring is another beautiful choice.
Love games are another item that come in a large selection and variety. You can get everything from dice to a personal game of monopoly.
Plan a romantic massage. In your special planning you might want to include, hot oils, romantic scents and candles. If you really want to be elaborate get your partner a new spa robe or super special towel as part of the evening.
Valentines is a special day but it does not have to be an expensive day. What you should remember with all your planning is that you want to make it personal and romantic for the two of you. Take your time and consider what kinds of things would really make your partner happy and feel special. After all, the whole idea of the Valentine's Day is to show your partner how much you care and love them.
Google+